How to Pay for College: Grants, Loans and the FAFSA
As any college kid will tell you, the best things in life are free. Those first four or five years after flying the coop are filled with new, invaluable life experiences as unbreakable friendships are forged and immeasurable growth is made during the dawn of adulthood. For a lucky few, it's the last truly worry-free time of their lives – mom and dad have a sturdy tuition payment plan in place, and son or daughter will enter the real world free of debt, raring to go. For most others, however, the reality that they'll have to find a way to pay for college on their own induces a headache worse than your typical Labor Day weekend hangover.
Failure to Prepare is Preparing to Fail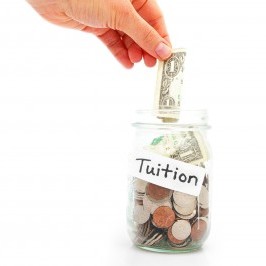 Yeah, it's a cliché. Yes, you probably heard it from your high school coach (speaking of hangovers). But, as with many unwanted pearls of wisdom you've been given through the years, it contains some truth. The best way to ease the anxiety created by the prospect of massive fee bills is to determine how much you'll be paying for college and formulate a payment plan. You can visit your college's website, which will likely have a net price calculator. Net price accounts for the cost of the first year of college for a full-time undergraduate, including tuition, room and board, subtracting need-based grants or scholarships you may receive (more on that later). Or, you can try the one provided by U.S. News & World Report, which covers more than 300 schools from across the country.
To ensure you receive the most accurate estimate possible, enter the most up-to-date information relating to your family's income. Keep in mind that it's merely an estimate and not the exact amount you'll be paying. Constant changes in the cost of tuition and the amount of aid offered by your school will cause the calculated amount to vary from academic year to academic year. Getting money for college is a year-by-year process, but once you establish a routine in year one, things will become straightforward thereafter.
Free Money
If your objective is to finish college with a minimal amount of debt – and it should be – then you'll need to conduct an extensive free money finding mission. That is to say, you need to get as many need- and merit-based grants and scholarships as possible. Of course, grants and scholarships don't have to be repaid.
It should be noted that many merit-based scholarships are secured from private organizations and companies. Students can consult their high school counselors or college's office of student aid as a launching point for research.
Lending Some Knowledge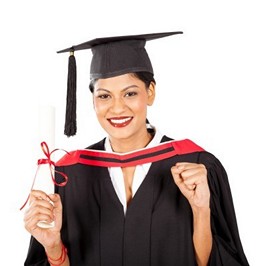 The remainder of the cost for college will have to be covered out-of-pocket, with loans, or both. That's right, loans. The mere utterance of the word may cause to you shudder because of the horror stories of General Studies graduates leaving school $250,000 in debt, taking decades upon decades to pay it off. Rarely is it that bad. In fact, a report from the New York Federal Reserve Bank indicated that less than one in 30 students have debt of more than $100,000.
Controlling your student loan debt is easy. The rule of thumb is to avoid private loans unless all your other options have been exhausted. Private lenders tend to extend too much credit at high interest rates, resulting in graduates with debt that doesn't justify their modest-income jobs. Federal student loan programs cap the amount of debt you can accumulate at $31,000 for dependent students and $57,500 for older students, and offer low interest rates. Here are notable federal student loans:
Subsidized and Unsubsidized Direct Stafford Loans: A subsidized Direct Stafford Loan comes from the federal government and provides a different amount of aid for students depending on their year in school. Freshmen receive up to $3,500, sophomores receive up to $4,500, and juniors and seniors each receive up to $5,500. No interest is charged and payments are not required while the student is in school. Unsubsidized Direct Stafford loans are offered to those who need to borrow more than they can get from subsidized Stafford loans. Freshmen receive up to $5,500, sophomores receive up to $6,500, and juniors and seniors each receive up to $7,500. Students enrolled at least half-time aren't required to make payments, but interest increases.
Perkins Loan: These loans are designed for students with "exceptional financial need," according to the office of Federal Student Aid. Up to $5,500 is available to undergraduate students in each year of study with 5% interest. This is campus-based aid, meaning that your school reaches into a limited pool of funds to award money, and you eventually pay back the school. The funding level of the program affects the amount you are awarded.
The Key to it All: FAFSA
Fortunately, finding out if you qualify for federal grants, Work-Study, and loans doesn't require nearly as much legwork as it seems. You simply need to fill out a Free Application for Federal Student Aid (FAFSA). You can fill one out for the next academic year on January 1. The earlier you complete it, the more likely you will be to receive a desirable package. If you're under 24 and not financially independent, you may need the help of your parents. Here are a few things you may need while filling it out:
A pin for applying online
Social Security card
Driver's license
Last year's W-2 form
Last year's income tax return
If you're a dependent, your parents' income tax return
Last year's untaxed income records
Current bank statements
Once you've completed the process, print out a copy of the application for your personal records. You will soon receive a Student Aid Report (SAR) by email with your Expected Family Contribution (EFC). The EFC, based on your family's income level, is sent to your school and used to determine how much financial aid you'll receive. It's important that you check the SAR to ensure all of the information is accurate.
When you receive the package varies by school. Many require you to accept or reject it online through the school's website. Consult your school's office of financial aid for more information.