21 Best Campus Bars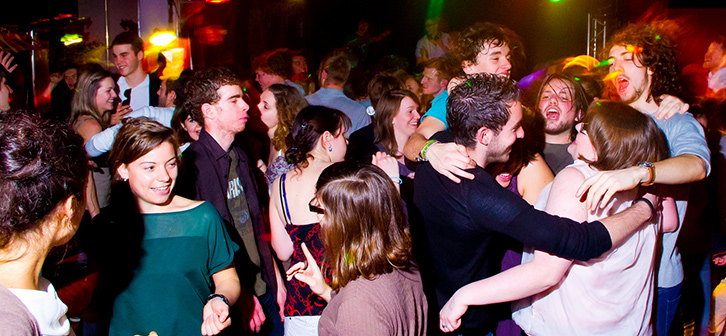 The passage of the National Minimum Drinking Age Act of 1984 (which blackmailed state governments into raising the drinking age to 21), has greatly complicated the efforts of college administrators to regulate the consumption of alcohol on their campuses. College kids, newly away from home, will always drink — and likely drink too much. The question is, how do you mitigate the potential harms? In view of the biggest real threat, namely drunk driving, many schools have found that the best option is actually to encourage drinking on campus, rather than off, by opening their own taverns within safe stumbling distance of the dormitories. Here are 21 places where students can wet their whistles amongst academe's hallowed groves:
When was the last time you paid for a beer with pocket change? Drafts are still 95 cents at this charmingly scruffy Viking-themed bar under a chemistry lecture hall. It's stayed so cheap for 40 years because it's been run pro bono by Rice's Graduate Student Association. Even the tip money goes toward a big year-end party, rather than to the bartenders. Pre-packaged subs from Jersey Mike's and banh mi from a local Vietnamese place are the extent of the food options.

Rathskeller, or Ratskeller, means "council cellar," and originally referred to a tavern operating in the basement of city hall. It became a popular name for bars in America, especially those owned by German immigrants, starting in the 19th century. Bonaventure's version opened in 1963 and has just been renovated with a $12,000 gift from this year's graduating senior class.

Der Stiftskeller and Der Rathskeller at the University of Wisconsin, Madison

Both of these spaces, which celebrate Wisconsin's favorite beverage in classic German beer-hall style, are located in the Memorial Union. UW's beautiful student center opened in 1928 (though the suds couldn't flow until 1933 and the repeal of Prohibition). The Union Council wisely voted to grant women unlimited entry to the Rathskeller beginning in 1941, and the rest is history.

As the name implies, Traditions is dedicated to the legacy and culture of the Trojans, one of America's most storied collegiate teams. The bar serves not only beer and wine but also hard liquor. There are ten flat-screen TVs to watch sports on, and there's also a full kitchen with decent pub food.

The GCB at Brown University

The Grad Center Bar at Brown is managed as a members-only club, but all grad students are automatically members. As with Valhalla, undergrads and assorted civilians are welcome as long as they're 21 or older, but they'll have to pay $10 per term or $30 for a year. There are nightly drink specials and four rooms with diversions like video games, darts, and board games, which you can check out with an ID.

Catskeller at the University of Cincinnati

Catskeller prides itself on its selection of craft beers, with eight rotating selections on tap and over 40 varieties in bottles. Entertainment options include "11 flat-screen TV's, six pool tables, two shuffleboard tables, Nintendo Wii, and arcade games," as well as tastings, poker tournaments, and the "Catskeller Unplugged" music series.

The Loft at Loyola Marymount University

The Loft Sports Lounge at this venerable Catholic institution in West Los Angeles is only for members and their guests, but memberships are available to all over-21 students, faculty, staff, and alumni. That membership is certainly worth having, as where else in L.A. can you find six microbrews on tap for three dollars each, or even, at the same price, a "paddle" with samples of four different beers.

Here we begin the sad part of our story. Along with student-run radio stations, campus bars have become a target of bean-counting administrators looking to use the mood of economic hysteria as an excuse to raffle off university assets they always considered nuisances in the first place. The Cactus Café has been an Austin mainstay since 1979, launching the careers of local stars like Lyle Lovett. In 2010 the University announced it would be closing the Cactus, to widespread outrage. But this story has a happy ending: KUT, the school's NPR station (not to be confused with student station KVRX) actually stepped in and helped save the venue.

This watering hole in the William Ransom Wood Campus Center opened in 1975. Fairbanks is the second largest city in Alaska after Anchorage, and though it's farther north, it's also in a valley deep inland, so it has hotter (if short) summers. However, that season's midnight sun turns to near-constant dark in the interminable, freezing cold winters. It's enough to make you crave an adult beverage. Luckily, the Pub's got you covered, and they host special events nearly every night: Monday Night Football, film nights, trivia, tastings, comedy … everything you need to keep your seasonal affective disorder at bay!

The College Underground at the College of Wooster

So named because it's located underneath Kittredge Dining Hall, the College Underground hosts wild dance parties every Friday night as well as other, more sedate weekly events: karaoke, comedy, bingo (okay, that night probably gets pretty crazy). The bar is cash-only and school IDs are required; each student gets to bring in just one outside guest.

The Pub at San Francisco State University

This charmingly dingy establishment (really, sometimes the more fancy of these college bars just seem wrong somehow, you know?) is located in SFSU's Cesar Chavez Student Center. True to Chavez's mission of social justice, here you can get a beer for three dollars (even less if they're running specials!) even in America's most overpriced city.

Lots of luck winning Wednesday night trivia against the brainiacs at this MIT watering hole with the sonorous sobriquet. Its regular hours are just 7:30-1:00 Monday through Thursday; the Ear only opens on the weekend for private parties. A full menu of pub food and cheap beers is available.

Another college bar with a more creative name than "Pub" or even "Rathskeller," according to its website the Maintenance Shop "or 'M-Shop' as it's affectionately known, is the longest running, ALL AGES, nightclub in Ames, IA." While this may seem like a dubious distinction, the M-Shop has been around since 1974 and hosted some truly great acts, from Tower of Power to Smashing Pumpkins.

The Den is a superb place to watch the UH Cougars play—even being named one of the top six sports bars in town by the Houston Press, despite the fact that it's only been around for a few years. It's also a great place to tipple, with a full bar and 24 different beers on tap. Just don't drink and then try to scale the rock wall at UH's state-of-the-art gym across the street.

Founded on campus by a UCSD alum in 1993, Porter's Pub prides itself on serving craft beer and has poured over 400 varieties in that time. A three-dollar happy hour menu includes not only the typical sliders but more innovative twists like a fish burger and an eggplant burger. Their music game is also tight, drawing some of the best live acts in the hip-hop world like Talib Kweli and KRS-One.

The popularity of this bar, which opened in 1979, proves that Wolverines love their beer every bit as much as any Wisconsin Badger. Charley's also serves shots, including a "deadly sins" menu which you should probably err on the side of taking literally. Generous specials are offered not only at happy hour but at the "midnight hour," 10:00-2:00.

For over 10 years, the Draught Horse has had Temple students saying "I love you, man" to each other in the City of Brotherly Love. A wide assortment of craft beers, cocktails and shooters, a 4:00-7:00 happy hour, and food specialties including a "cheesesteak pizza" all give these Owls something to hoot about.

Two pubs are better than one, especially in Milwaukee, where they're just as good at drinking beer as they are at brewing it. Caffrey's is an attractive wood-paneled watering hole with a heated outdoor patio, pool tables, and a popcorn machine. Murphy's boasts a dance floor, beer pong, and an appearance as Playboy's "College Bar of the Month," which would have thrilled Father Jacques Marquette, the school's Jesuit namesake.

The Pub at the University of Chicago

The University of Chicago is known as pretty much the opposite of a party school: interviewers have been known to tell prospective students, "if you think college is supposed to be fun, go somewhere else." That rule is suspended slightly at The Pub, a private club (though annual dues are only $10; guests of members pay $3 at the door). It's open until midnight or 1:00 except on Sundays, with an impressive 24 beers on tap and over 100 types in bottles.

The Bear's Lair at the University of California, Berkeley

The Bear's Lair is no more. After a storied half-century of existence — not only was it once Playboy's "College Bar of the Month" and rated in both the "Top 10 College Bars" and "Top 25 Sports Bars in America" by Sports Illustrated, but the Grateful Dead played here back in the '60s — it shut its doors for the last time this month. Even after a rescue effort by a consortium of local businessmen, the bar could no longer make the steep Berkeley rent in the wake of the economic downturn.

"Established in 1968, and re-established in 1999" says the website (there have been similar revivals at many schools, such as the Thirsty Ear at MIT above; hopefully something like this will happen for the Bear's Lair), the Ramskeller's name is a mascot-related twist on Rathskeller, much like Cincinnati's Catskeller. For some reason, it's not open at night, but it's a great place to play some pool during the day, have a bite to eat, and wash it down with the hoppy nectar of the gods.