The Most Dangerous Schools in America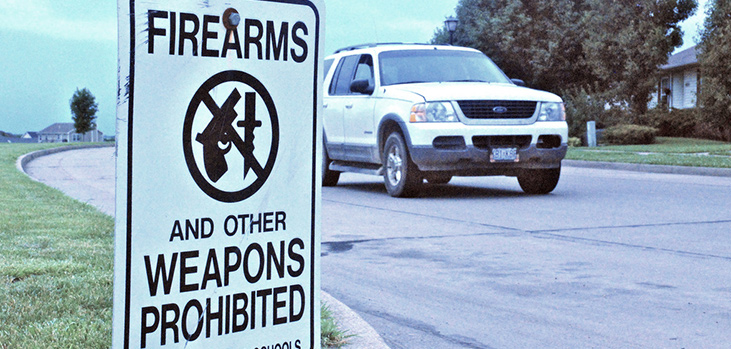 Much has been made about a crisis in education in America concerning falling grades and budget tug-of-wars. While the debate about how to fix the problem rages on, we can all be thankful that at least school violence has been trending down over the last two decades. Yes, despite what the heavy coverage of horrible school shootings would seem to indicate, grade school and college campuses are actually safer, in general, than they used to be.
That being said, there is no shortage of violent schools, at the university level and as early as middle school. By using our own research and sources like The Daily Beast and Elite Daily, we've made our designations for some of the most dangerous schools (and school districts) in America.
It has been federal law since 2006 that states must designate schools that meet a certain number of crimes per student for two or more consecutive years as "persistently dangerous." Under Pennsylvania's criteria, six schools are now listed as persistently dangerous (a 40% drop from the previous year), but Lincoln High has made the list every year since the rule took effect. In March 2011, a teacher whose life was threatened by a student with scissors was the fourth Lincoln teacher to be assaulted in two weeks. In their own words, Lincoln students and their parents have described the experience at Lincoln as "getting more violent" and "scary."

A recent article that appeared in The Bottom Line, a weekly paper produced by UCSB students, explained the flood of calls and emails to campus police of late were not a sign of an uptick in crime, just in notifications — crime remained as high as usual. In fact, crime was high enough to place the school 19th on The Daily Beast's list of dangerous schools, with a whopping 119 aggravated assaults and 159 burglaries between 2008-2010. Assaults went up another 15% between 2011 and 2012. There was even a Molotov cocktail attack. As for the students themselves, they believe the problem seems to be getting worse.

DeWitt Clinton High School, New York:

If not for the metal detectors, this school in the Bronx would be as dangerous inside the walls as it is just outside. Weapons like brass knuckles, guns, and knives were seized 33 times during "routine screenings" in 2010, earning it the nod for New York's "most heavily armed" school. The same year, DeWitt had 252 reports of violent or disruptive behavior. The school's academic grade of "F" has put it in danger of being closed, although it has thus far managed to escape being shuttered.

A recent study by Pennsylvania think tank Commonwealth Foundation found the worst-performing schools in the state to be five times more likely to be the location of violent crimes. Of those bottom-5% schools, Wilkinsburgh was found to have the highest crime rate in Pennsylvania with 137 incidents per 100 students. Wilkinsburgh Senior High followed with a rate of 78 incidents per 100 students, with the two combining for 192 assaults on both teachers and students in 2010-2011.

For being the "City of Brotherly Love," Philly certainly seems to have a lot of campus violence. The Daily Beast recently rated Penn the 13th-most dangerous school in America, while Generation Y site Elite Daily dubbed the university its No. 1 pick for most dangerous. According to the Daily Beast's metrics there were two murders, 106 robberies, 44 aggravated assaults, 80 burglaries, 25 car thefts, and two incidents of arson from 2008-2010. Students were quick to defend their school, however, citing the heavy presence of police on campus. Of course, their presence could be a clear indication administrators are trying to get crime under control.

The hometown of this school district has significantly lowered one of the country's highest crime rates with a proactive system of high-tech law enforcement measures. However, the steps do not appear to have affected criminal activity by minors, as the district had the highest number of violent incidents in 2011-2012 with 146, despite ranking 21st in student population. Violence increased a whopping 50% for the state of New Jersey as a whole. The district also scored fifth in number of weapons confiscated, with 28.

It's location in the famously crime-ridden neighborhood of Englewood creates a dangerous learning environment for these young students. Between August 2011 and June 2012, 27 students — former and current — were shot, eight of them fatally. Across the district, 319 students were wounded or killed by gun violence. Student fights with each other are common at Harper, and assaulting teachers is not unheard of either. Police patrol both the inside and the outside of campus to maintain order, but they can do nothing about the poor academics at the school, where failure rates per class can be as high as 50% or greater.

Despite having four campuses and 16,000-plus students, some outside New England may be unfamiliar with Johnson & Wales. Unfortunately, being considered one of America's most dangerous schools is not the publicity of choice. Both The Daily Beast and Elite Daily ranked the Providence campus in their top 5 most dangerous, at second and fourth, respectively. The Beast relates there were three murders, 29 robberies, 44 aggravated assaults, 15 burglaries, 29 car thefts, and four arsons.

Having two forcible rapes in 2009 helped land South Carolina's Benedict College on Business Insider's recent list of the most dangerous colleges in America. Believe it or not, Harvard already had two rapes reported on campus in two weeks this semester, and some female students are saying they don't feel safe. Harvard had already scored high on the danger chart because of 128 forcible rapes over a three-year period, not to mention 170 aggravated assaults and over 900 burglaries. As local police have pointed out in the aftermath of the recent rapes, Harvard has an urban environment, with all the crime problems that come with that.

South Philly High is almost synonymous with bullying and racial violence. In 2009-2010, the school saw 75 severe incidents of racial violence, nearly half of them coming on a single day when roving gangs of students targeted Asian American students and beat them. There were over 530 assaults in five years at the school. The school is incredibly diverse, with 19 languages spoken at South Philly, and bullying continues to be a serious concern for everyone involved.