All over the U.S., colleges welcome students into their hallowed halls to learn, read, debate, write, produce, create, compete, and – though the universities may not sanction it – party and drink.
For some students, education is paramount when choosing a university, while others look to lists of top party schools.
We turned to Instagram to see which states and campuses are posting the most about drinking games. Where are the boozehounds, and what drinking games are college students playing?
Read on to find out.
Most Popular College Drinking Games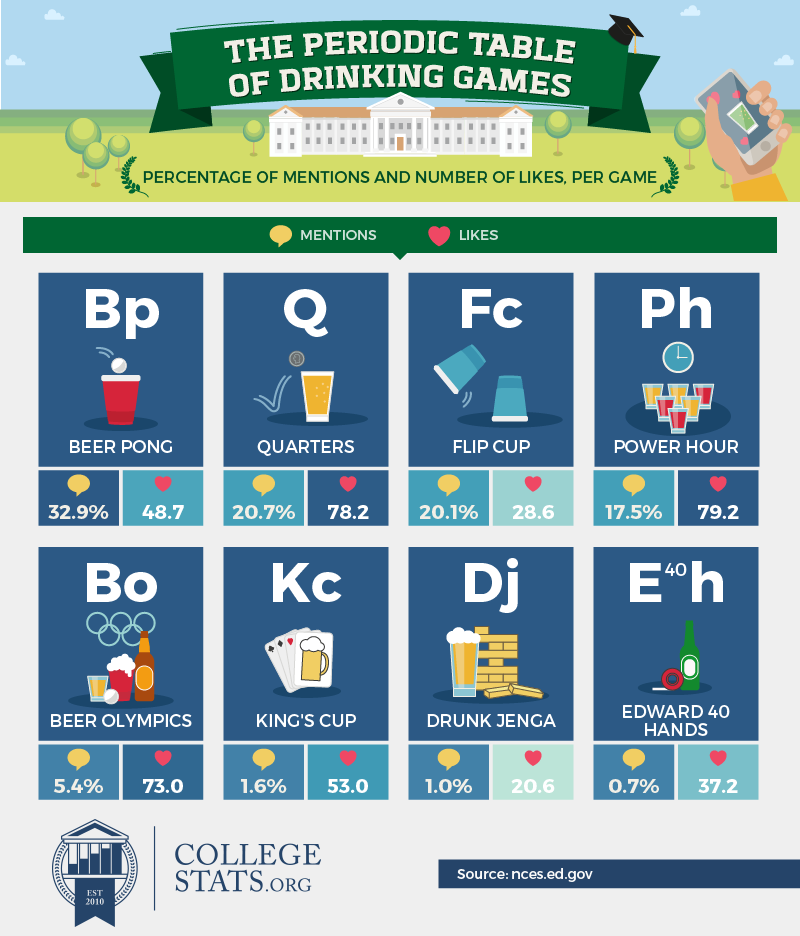 It's probably not a surprise to learn that Beer Pong (almost 33 percent of posts) wins the award for most Instagram mentionsnear college campuses. Other common games includeQuarters(nearly 21 percent), Flip Cup (20 percent), andPower Hour (17.5 percent).
While Beer Pong has the most mentions on Instagram, Power Hour takes the cake for most likes – with an average of 79.2likes per post compared to just 48.7 likes per post on Beer Pong mentions.
America's Booziest College Cities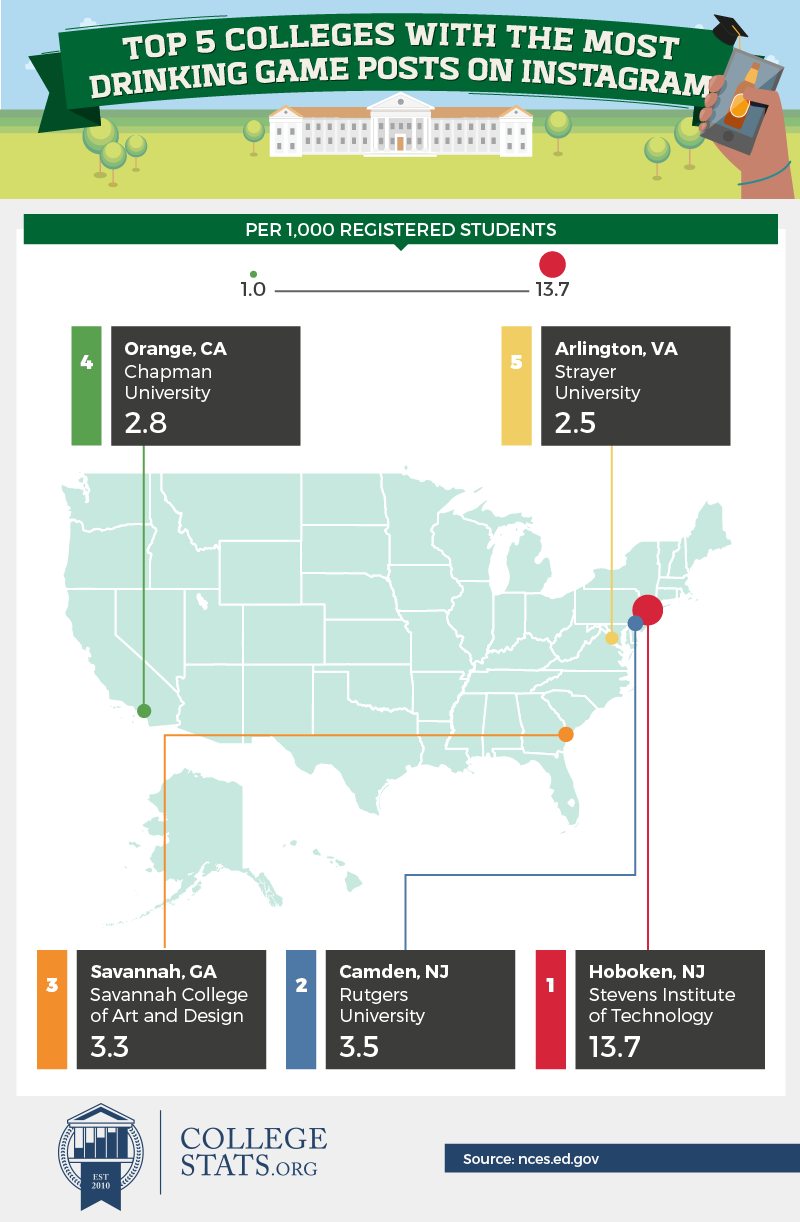 Based on the data, the booziest area is near Stevens Institute of Technology in Hoboken, New Jersey, with 13.7 Instagram posts related to drinking games per 1000 area Instagram posts.
The areas around Rutgers University in Camden, Savannah College of Art and Design, and Lesley University in Cambridge all ranked high as well.
College Cities' Favorite Drinking Games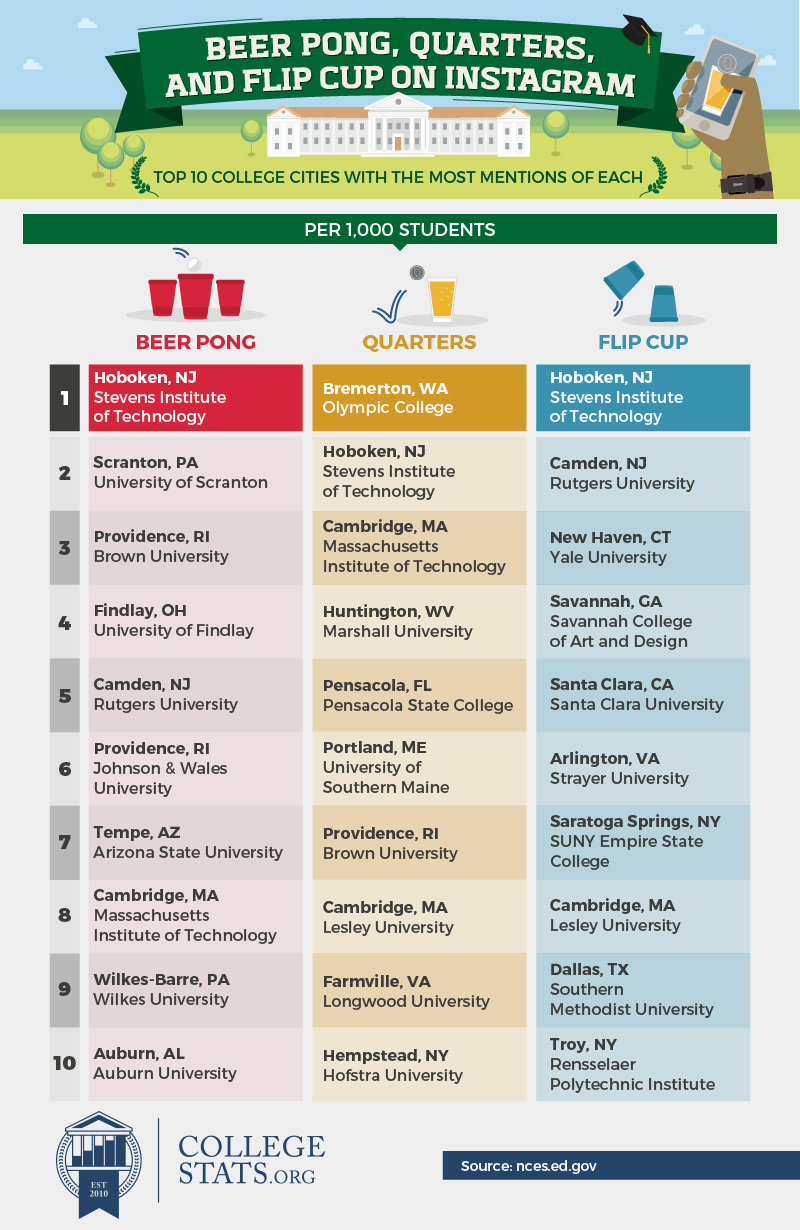 What drinking games are people playing most near college campuses? Once again, the area near Stevens Institute of Technology in Hoboken, New Jersey, had the most Beer Pong and Flip Cup mentions.
Instagrammers near Olympic College in Bremerton, Washington, mentioned Quarters most often, while posters around the Stevens Institute of Technology came in second.
Drinking Games, by State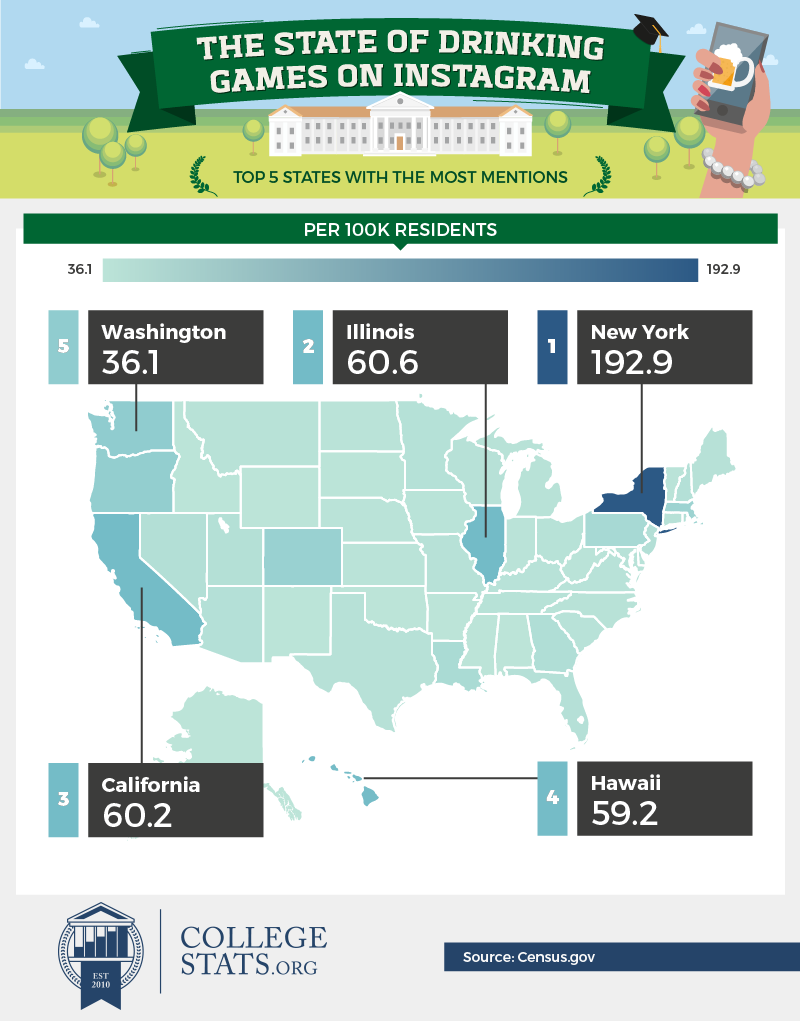 When it comes to drinking games near college campuses, New York State had almost 193 mentions on Instagram per 100,000 residents. This was followed by Illinois (nearly 61 mentions), California (60 mentions), Hawaii (59 mentions), and Washington State (36 mentions).
Interestingly, these states don'trank highest for overall alcohol consumption in the nation. However, they do havea more liberal perspective overall, so perhaps they are also more liberal and open when it comes to alcohol.
Conclusion
According to Instagram – a social media platform with 500 million monthly active users – some college cities are much boozier than others (or at least share their boozing more often).
While drinking may seem like a rite of passage for college students, with about 75 percent of students saying they drink to break the ice or be social, experts do worry about the prevalence of binge drinking and its negative consequences – including assault and car accidents. Studies also show that the more alcohol is consumed, the further academic achievement falls.
To learn more about university towns, students, and what matters to them – including their vices – visit CollegeStats.org. You'll find the resources and data to help you choose your university and plan for your future – and your liver's future.
Methodology
For this campaign, we collected Instagram posts related to drinking games within a one-mile radius of colleges in America with over 4,500 registered students.
Hashtags Used
#BeerPong, #BeerOlympics, #BeerRoulette, #3man, #ThreeMan, #Drinkapalooza, #DrinkingGames, #DrunkJenga, #Edward40Hands, #EdwardFortyHards, #FlipCup, #KingsCup, #PowerHour, #Quarters
Sources
https://www.princetonreview.com/college-rankings?rankings=party-schools
https://www.thrillist.com/drink/nation/beer-pong-history-why-it-s-called-beirut-fun-drinking-games
http://www.mademan.com/mm/power-hour-drinking-game-rules.html
http://www.foodbeast.com/news/these-are-the-origins-of-four-of-your-favorite-drinking-games/
http://www.gallup.com/poll/181505/mississippi-alabama-louisiana-conservative-states.aspx
https://www.statista.com/statistics/253577/number-of-monthly-active-instagram-users/
https://www.thestreet.com/story/12119523/9/the-drunkest-states-in-america-2013-vintage.html
https://www.ncbi.nlm.nih.gov/pmc/articles/PMC3843305/
Fair Use Statement
Keep your readers informed by sharing our content for noncommercial purposes only. Just please give credit to our professors (or authors of this page).