There are many factors to take into account when deciding which university is the best fit for any high school senior. Campus safety is a primary and constant concern for parents and students alike; accessible and comprehensive safety resources, emergency procedures, drug and alcohol policies, and crime statistics are all criteria in determining the safety of college campuses across the United States. To ensure you or your child receive the best education in the safest environment possible, we've created this guide just for you: The 2016 College Campus Safety Page Rankings.
We believe that #CampusSafety resources should be readily accessible and available to any college student attending an institution of higher learning. Universities are responsible for providing comprehensive safety guides and maximizing the value of their alert systems and emergency response programs.
To assess which colleges are providing the most up-to-date and comprehensive safety resources, we compiled a list of the 100 most-attended universities across the nation, and then included the top college in every state that wasn't represented on the list – for a total of 113 unique schools analyzed. Next, we located each school's security information or campus police webpage to identify accessibility of emergency phone numbers, safety tips, crime statistics and reports, and sexual assault procedures. We then rated each university based on how easy it was to find this information on their websites.
Another factor in our study was the department's presence on social media platforms, such as Twitter. Every account was ranked by analytics, such as the current amount of followers and likes each page harnessed, in addition to the account's daily activity and engagement.
After carefully averaging and weighing all of the selected criteria together, we established a list of the top 50 schools with the most accessible and comprehensive safety resources. Take a look to see if your dream school made the list!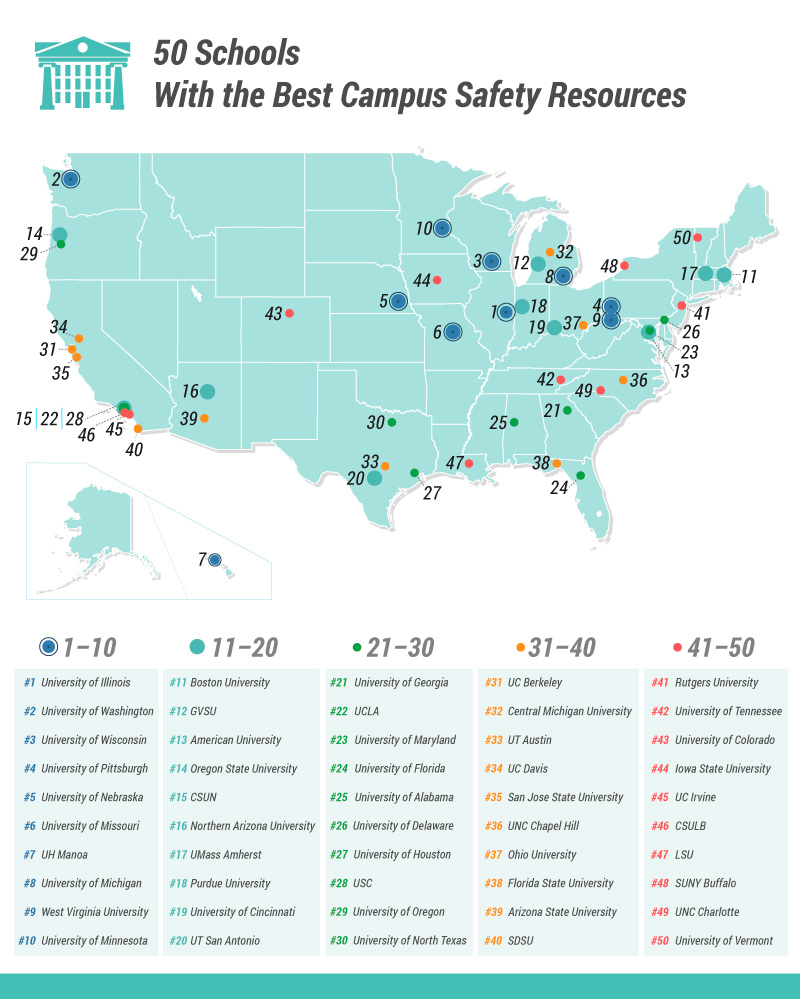 Continue reading below for in-depth rankings that show the final score and category score.
*Some final scores may appear to be off by a hundredth due to rounding.
Campus safety is a major factor in running a successful university and enables it to operate at its full potential. Regardless of their reason for attending a university, if a student doesn't feel safe on campus, then the ultimate goal has not been met. It is important for schools to take the initiative by providing the student body and faculty members proper safety information, security, and resources.
The University of Illinois at Urbana-Champaign – with a final score of 11.35 – is setting an example for colleges nationwide. The university goes to great lengths to ensure students are acquainted with general safety and sexual assault procedures on campus. The University of Illinois police department (@UIPD) also makes their presence known on Twitter, with more than 4,800 followers and 3,400 tweets.
Campus safety in your hands. Download the safety guide in the Illinois Student Affairs app today! https://t.co/kFS9GwqkIV #ILLINOISsafety pic.twitter.com/B9gU90zUb0

— U of I Police (@UIPD) October 12, 2016
Another leading institution making its safety efforts known is the University of Washington, with a score of 10.84. To promote its "Be Boundless" motto, the university administers some of the strongest safety resources in the nation.
Ohio University witnessed the greatest increase in its safety ranking after college administrators directed us to the school's alert page, which provides students with a reliable source of information regarding critical incidents occurring on campus, as well as a place to sign up to receive emergency notifications. Northern Arizona University ranked 16th on our list after university officials granted additional resources to our researchers, including knowledge of a shared radio system between the campus and the Flagstaff police department. Officials also highlighted the fact that NAU owns all roads and sidewalks on campus, allowing the university's administration to restrict the open carry of firearms on these pathways.
As future innovators, educators, and dream achievers, college students deserve to attend a university that puts the safety of students and staff first. For more information regarding campus safety and crime, visit CollegeStats.org, where we provide the most up-to-date research concerning colleges and universities across the nation.
DON'T LIKE WHAT YOU SEE?
If your school is not included or you don't like the ranking, please reach out to us with the name of your institution and any pertinent data that may assist in accurately ranking your school to help better inform our rankings and this process. If your school is not currently included, we will follow the same process of evaluation to include in the next update.
METHODOLOGY
We looked at 113 U.S. colleges and universities (the 100 most attended, plus the largest institution in every state not already represented) and analyzed the accessibility and usability of each school's safety information resources using pre-established criteria. We looked at online and offline resources, as well as social media platforms. We also reached out to each school to enquire about safety resources that might not be readily apparent to us. Based on our analysis, we created a list of the top 50 schools that provided the best safety information to students according to our criteria.