Publishing comes in all shapes and sizes. Print, digital, web, and broadcasting are just a few of the types of communication we utilize to share information about some of the most important conversations in America.
We wanted to understand current trends in publishing in and around college towns. To learn more, we examined over 550,000 tweets to see where publishers were the most popular, and what kind of content got people tweeting and sharing.
While we can't say specifically that these tweets all came from college students, we do know that these areas had the highest concentration of mentions and shares. Read on to see what we discovered about the current state of publishing in these college towns.  
Passion for Publishing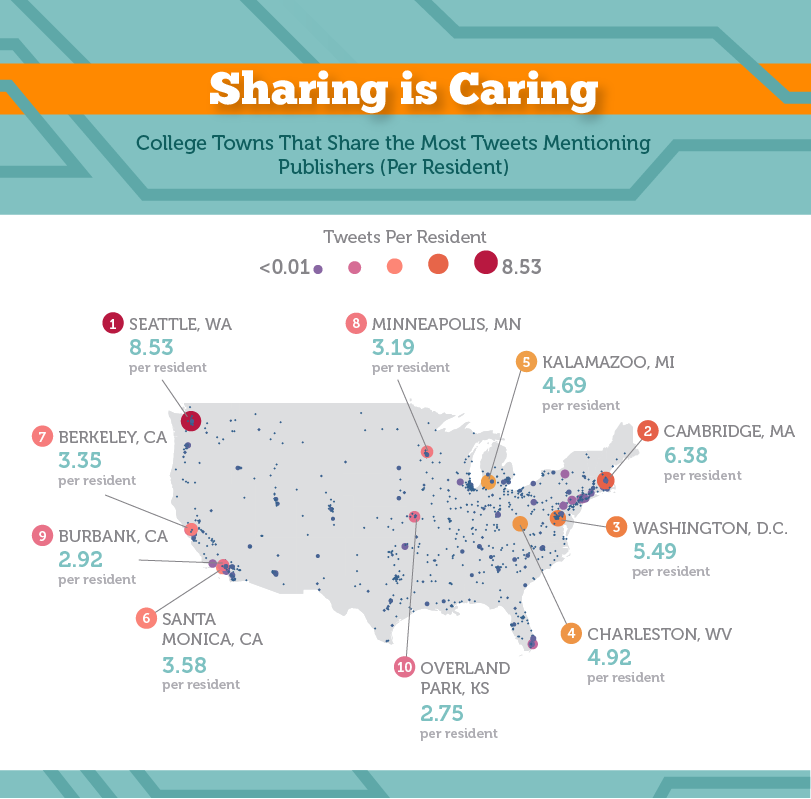 We found that Seattle was the college town sharing the most tweets mentioning publishers. While the University of Washington's English department made a point to call out that Seattle isn't exactly a publishing hub, and that jobs in publishing may be scarce there, Seattle was still a popular area for tweets mentioning publishers. As the corporate home and birthplace to online retail giant Amazon, Seattle has made a significant contribution to the evolution of the publishing world over the last decade.
Cambridge, Mass., and Washington, D.C., came in just behind Seattle. While Harvard doesn't offer a publishing program either, The George Washington University has one of just 30 graduate programs in publishing anywhere in the U.S. and is considered one of the most politically-active college campuses in the country.  
Other notable college towns sharing the most tweets mentioning publishers included Kalamazoo, Mich., Berkeley, Calif., Charleston, W.Va., and Santa Monica, Calif.
Popular Publishers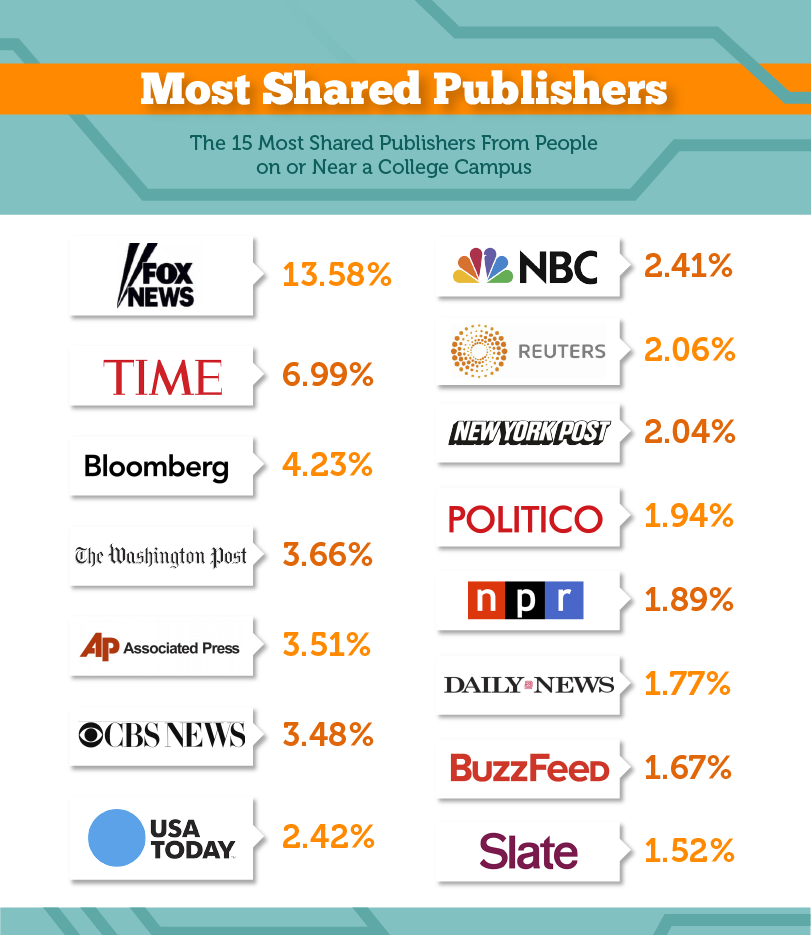 Publishing can come in many forms, and when it comes to the most shared publishers on or near college campuses, Fox News accounted for over 13 percent of all the Twitter traffic we examined. One of only a few 24-hour news broadcasting networks to make our list, Fox is often criticized as being markedly biased as well as polarizing – two things that make for prime social media sharing.
Particularly during an election cycle, many of these publishers feature high percentages of political content. Some, like Reuters, Politico, and the Associated Press, feature political news stories front and center year-round. Research also suggests that college students may be more politically engaged now than they have been in decades.
While BuzzFeed made up less than 2 percent of the tweets we looked at, this new-age take on publishing has had a profound effect on the way today's publishers are reaching out to and gauging what matters most to their audiences.
The Influence of Fox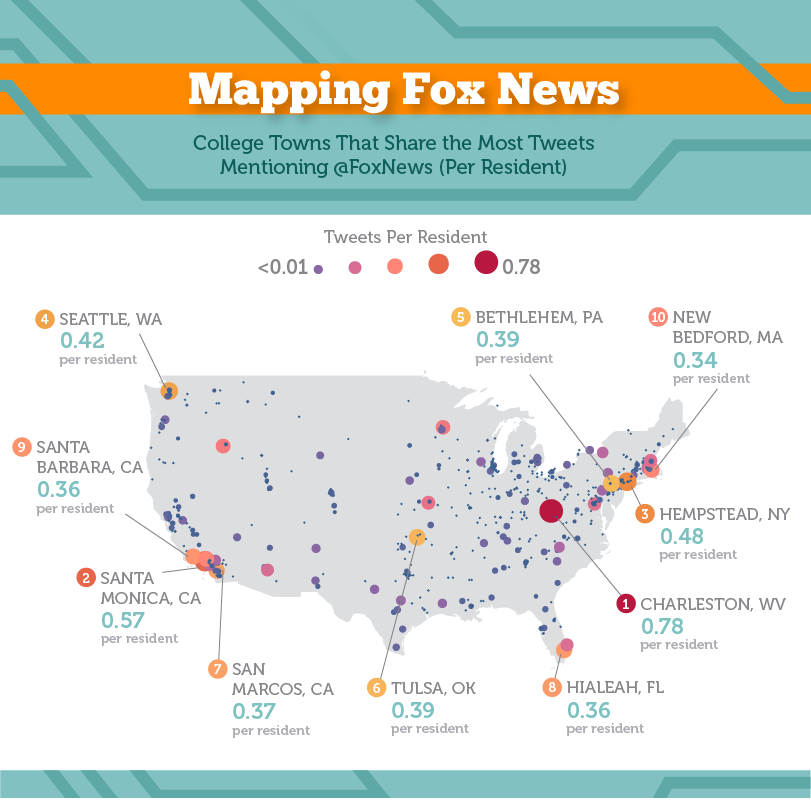 Whether it's tweets in alignment or tweets in opposition, Fox News gets a lot of attention from posts generating near college towns. While it's hard to gauge if these mentions were for or against the reporting and journalism they were sharing, some school areas had a higher concentration of Fox News-related tweets than others.
Charleston, W.Va., had the highest mention of Fox News tweets based on the data that we examined. West Virginia has a propensity for leaning toward the right – the state hasn't voted for a Democratic President since Bill Clinton in 1996. In 2012, President Obama secured only 35 percent of the vote there.  
Hempstead, N.Y., and Bethlehem, Pa., also ranked as college towns with high numbers of Fox News-related tweets. Both towns' private universities (like Hofstra University and the Moravian College and Theological Seminary) may have smaller student bodies compared to some of the public schools in the towns on our list, but that didn't stop them from having a high percentage of tweets about Fox News.
Other college cities with a passion for Fox included Tulsa, Okla., Santa Barbara, Calif., and Hialeah, Fla.
Social Media Rankings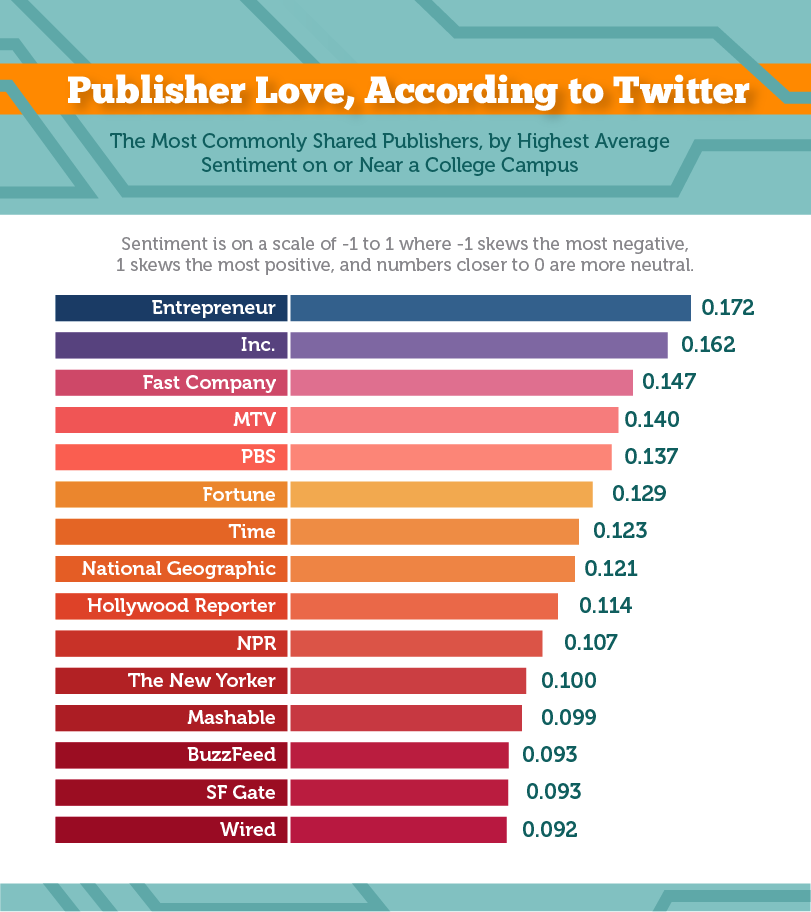 Specific colleges and universities with the most tweets mentioning any publishers included schools like Robert Morris University, the University of Virginia, Stanford University, and SUNY Plattsburgh.
Of the top 20 schools posting about news and current events, nine were private institutions and two were religious.  
While the demographics of these schools may be diverse, some, like the University of Michigan, are considered to be among the most politically active universities in the country. Others, like the University of Oklahoma, are known for their rich broadcast journalism programs.
Common Interests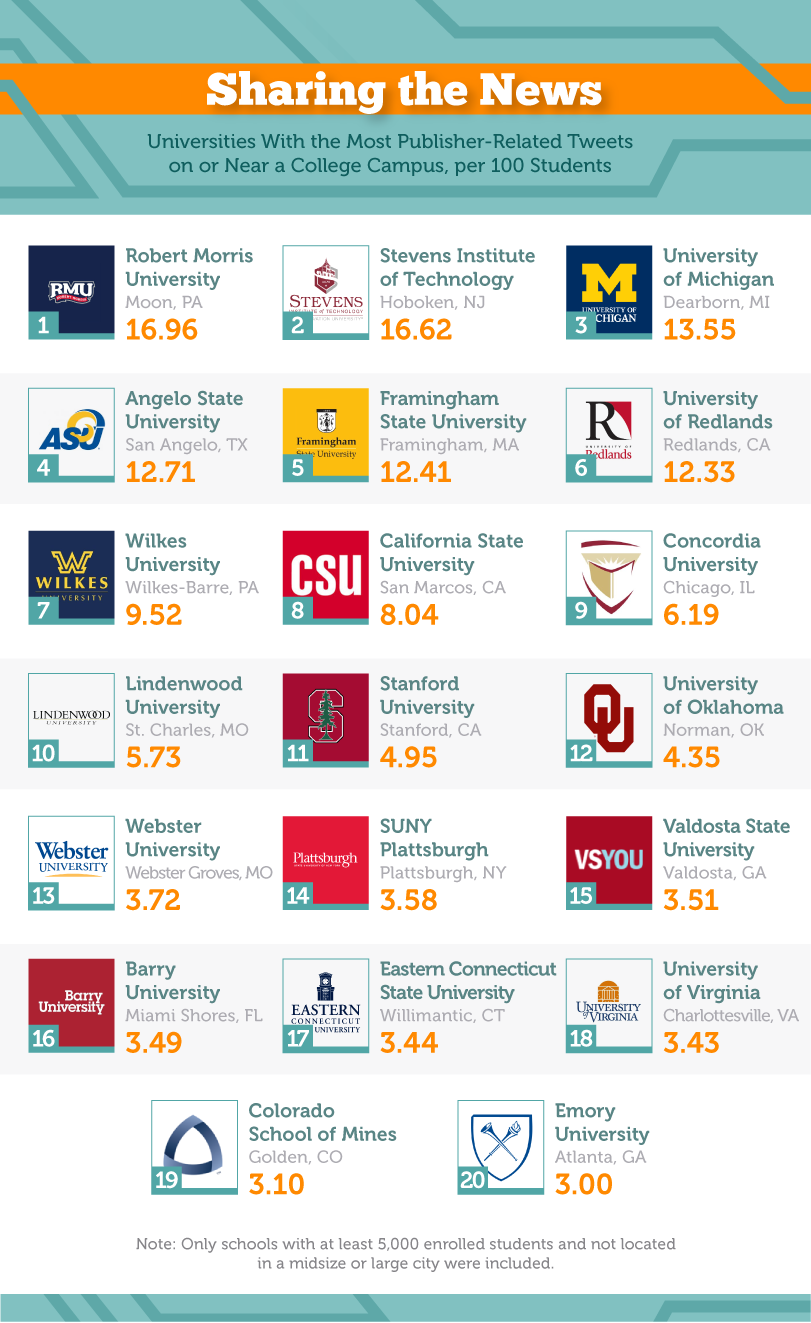 Getting college students around the country to agree on sports teams, or which rival institutions are truly the better school, might be impossible, but according to the tweets we looked at, some publishers had both popularity and positive sentiment.
Business-related publications like Entrepreneur, Inc., and Fast Company ranked as not only having the most mentions across the schools that we looked at, but they also had the highest average sentiment. These sites, which are focused on small business and workforce innovation, may be helping to inspire students looking to transition out of their college careers and into their professional careers.
Other entertainment-based publications, like MTV, Mashable, Wired, the Hollywood Reporter, and BuzzFeed, also ranked as some of the most commonly shared publishers with higher average sentiment.
Something to Talk About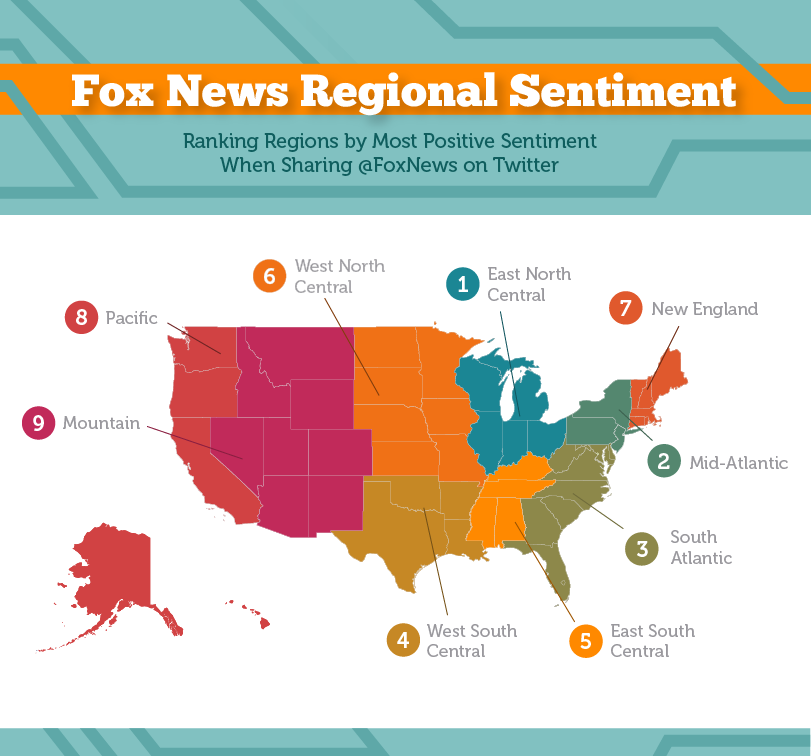 When we looked at regional sentiment for some of the most popular publications, Fox News had the most agreeable or positive tweets in areas like the East North Central region with states like Michigan, Indiana, and Wisconsin.
While some might assume that the South would have a higher level of affection for the often conservatively leaning Fox News, regions like the West South Central, East South Central, and South Atlantic came in behind some more northern areas like the Mid-Atlantic and East North Central.
Western regions had the least positive sentiment toward Fox News in their tweets – specifically the Pacific and Mountain areas.
It's About Time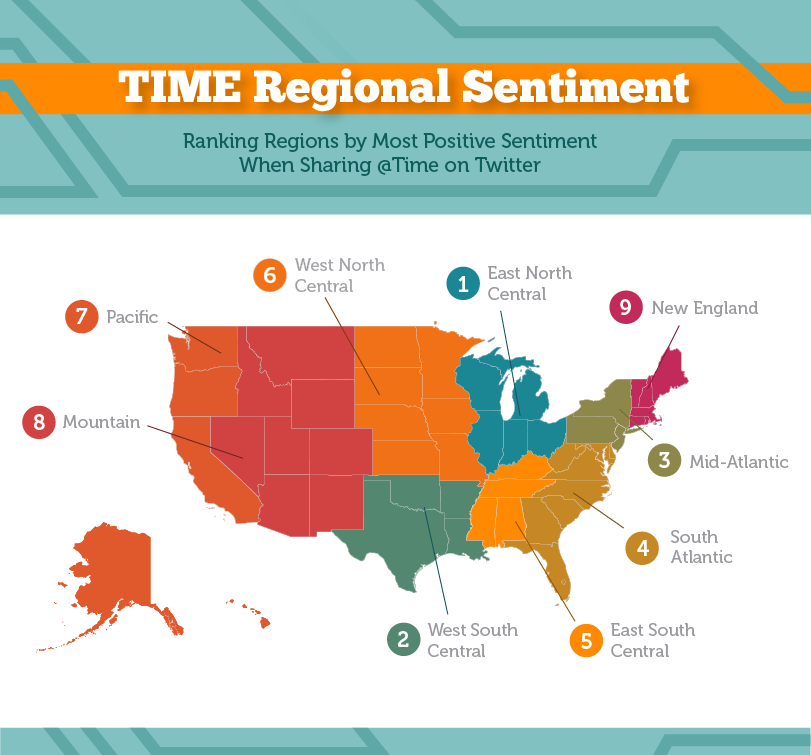 Time Magazine was first published in 1923 and has since become a staple of U.S. print media. No stranger to controversy, Time magazine has published some iconic covers and stories over the years, making it a consistent talking point in the publishing arena.
When we looked at regional popularity and sentiment for Time, the East North Central and West South Central regions had the highest percentages of positive mentions when tweeting about the magazine. The Mid-Atlantic and South Atlantic also had approving attitudes when referring to Time.
The least favorable sentiment occurred in the Mountain and New England regions.
Money in the News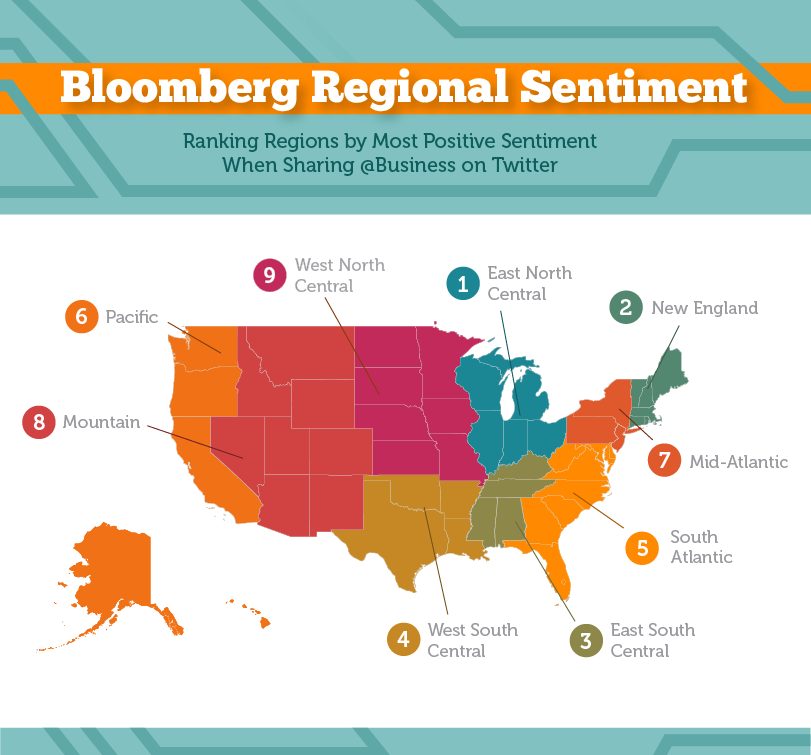 Bloomberg News was founded in 1981. Originally processed through terminals, Bloomberg was a way for professionals in financial sectors to analyze real-time market data and trade on the stock exchange. Today, Bloomberg is possibly best known for its online presence and financial service coverage. While critics may disagree over any potential media bias found in Bloomberg's content, some of the regions that we looked at were certainly fonder of it than others.
The East North Central and New England areas had the highest saturation of positive tweets when referencing Bloomberg News. Just behind them, the East South Central and West South Central regions also ranked.
Sectors that had the lowest levels of positive sentiment included the West North Central and Mountain regions.
The Power of Words
When we looked at common words commonly used in tweets mentioning publishers, "people," "news," and "time" were the most popular words, reiterating the kind of publishing content that those living in or near college towns are most interested in. Considering that the most common publishers were either of the news or entertainment variety, words like "people" and "news" highlight what's really worth tweeting about.
Other notable words included "media," "God," and "love." "Black" and "white" were also popular terms, particularly given the reignited conversation around race everywhere in the U.S., including college campuses.
Words, by Publisher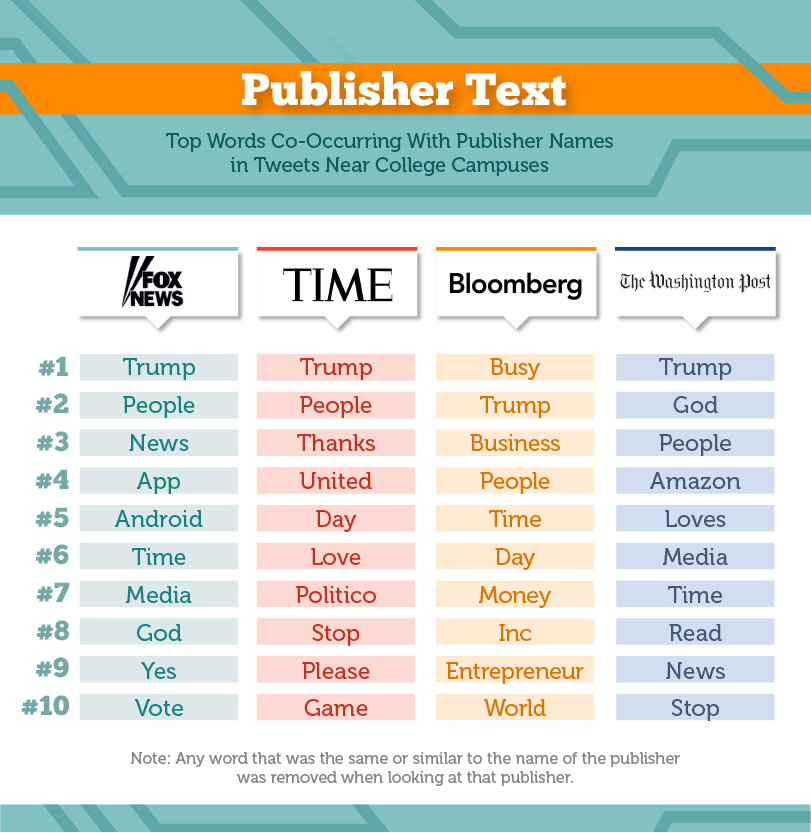 When we broke down the most used words by publisher, "Trump" came up number one for Fox News, Time, and the Washington Post. "Busy" was the most popular word found in tweets mentioning Bloomberg news or articles, and "Trump" was the second most popular.
Some popular tech words included "Android," "app," and "Amazon."
"God" was listed as a top 10 most popular word by Fox News and The Washington Post. While The Washington Post had "God" listed as their second most commonly used word in Twitter mentions, "God" showed up eighth in Fox News tweets.
Despite the popularity of "Trump" across all four publishers, "Clinton" didn't show up (again), and the word "vote" was only popular with one publisher: Fox News, where it came in last on their top 10.
Conclusion
Not all publishers are created equal, and even the same publications may not be seen in the same light by people in the same college towns, regions, or even the same household. How we consume information and where it comes from can say a lot about what matters most to us.
Some of the top publishers that we looked at inspired Twitter users to weigh in and share their content. Of the more than 550,000 tweets that we examined, we were able to see which regions responded more favorably to certain messages, and despite the range of their audiences, we found that many tweets mentioning publishers used several of the same words to describe information.
For more on what matters most to college students, visit CollegeStats.org. We provide comprehensive rankings, statistics, and data for all of your college needs. If you're looking to find the school that's right for you or the perfect program to help you achieve your dreams after school, CollegeStats.org is your leading resource for all things university and beyond.
Methodology
We pulled tweets mentioning publisher Twitter handles and focused solely on tweets located within one mile of a college campus. We only looked at schools that had at least 5,000 enrolled students. We disqualified colleges in midsize and large cities due to the search radius including far more than the campus, which greatly decreasing confidence that the tweet came from on or near a college campus.
For tweet sentiment scores, we analyzed the polarity of the tweets, which counted the number of positive and negative words within tweets. The tweets are scored between -1 and 1 where 1 skews mostly positive, -1 skews mostly negative, and a score closer to 0 is more neutral.
Text analysis was done by removing common words and punctuation and simply counting the occurrence of words used. We are unable to speak directly to the context of the words being used.